Blackmagic ATEM Mini Pro Price in Pakistan
Blackmagic ATEM Mini Pro Price in Pakistan  The Atem-mini from Black magic Design is a four-input live production switcher with an integrated control panel designed for multi-camera live streaming up to HD video to the internet or broadcast applications from gaming consoles, corporate computer streams, or HD cameras. Along with the software control update, the Mini Pro builds on the Mini with features such as live stream data rate and status information, a built-in hardware encoder, simultaneous recording to USB drives, drive hot-swapping with the Blackmagic Multi dock, an added record, and stream buttons, stream caching, a timecode generator, program preview multiview, tally support, and support for Blackmagic Design Pocket Cinema Camera 6K and 4K to utilize as your broadcast sources.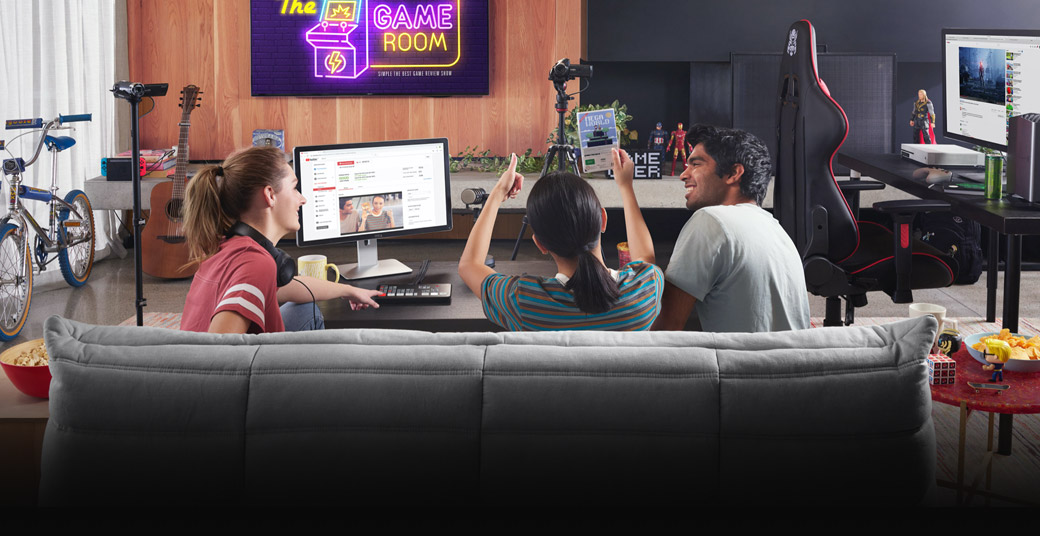 ATEM Mini Introducing lowcost, multi-camera
ATEM Mini switchers make it easy to create professional multi-camera productions for live streaming to YouTube and innovative business presentations using Skype or Zoom! Simply connect ATEM Mini and you can switch live between 4 high-quality video camera inputs for dramatically better quality images. Or connect a computer for PowerPoint slides or gaming consoles. The built-in DVE allows exciting picture in picture effects, perfect for commentary! There are loads of video effects too! All ATEM Mini models have USB that works like a webcam so you can use any streaming software while the ATEM Mini Pro model adds live streaming and recording to USB disks. ATEM Mini even has secret broadcast features built-in so it can do high-end work!
Faster Video Production Plus Live Streaming
Live production is the fastest way to complete a finished program, plus you can stream it to a live global audience via YouTube at the same time. The USB webcam output of ATEM Mini connects to any computer and looks just like a built-in webcam, so all streaming software for social media platforms works! With up to 4 HDMI inputs you can set up multiple camera angles such as wide shots along with independent close-ups of each person in the performance. Or you can connect to a computer with a PowerPoint slide show, video clip playback, websites, or gaming consoles. All switching is in real-time so you can live stream to any social media platform such as YouTube, Facebook, TwitchTV, and many more!
Self Contained
Broadcast Quality

 Switcher
ATEM Mini Pro is compact all in one design includes both a control panel as well as connections. The front panel includes easy to use buttons for selecting sources, video effects, and transitions. The source buttons are large so it's possible to use it by feel, letting the presenter do the switching! You even get buttons for audio mixing! On the ATEM Mini Pro model, you also get buttons for record and streaming control as well as output selection buttons that let you change the video output between cameras, program, and multiview. On the rear panel, there are HDMI connections for cameras or computers, extra microphone inputs, USB for webcam out plus an HDMI "aux" output for program video.

ATEM Mini Pro
This model includes all the features found in ATEM Mini, plus more! You get recording directly to USB flash disks in H.264 plus direct streaming via the Ethernet to YouTube Live and more. There's also a multiview with 4 cameras, media, preview, and program plus the status of recording, streaming, and audio.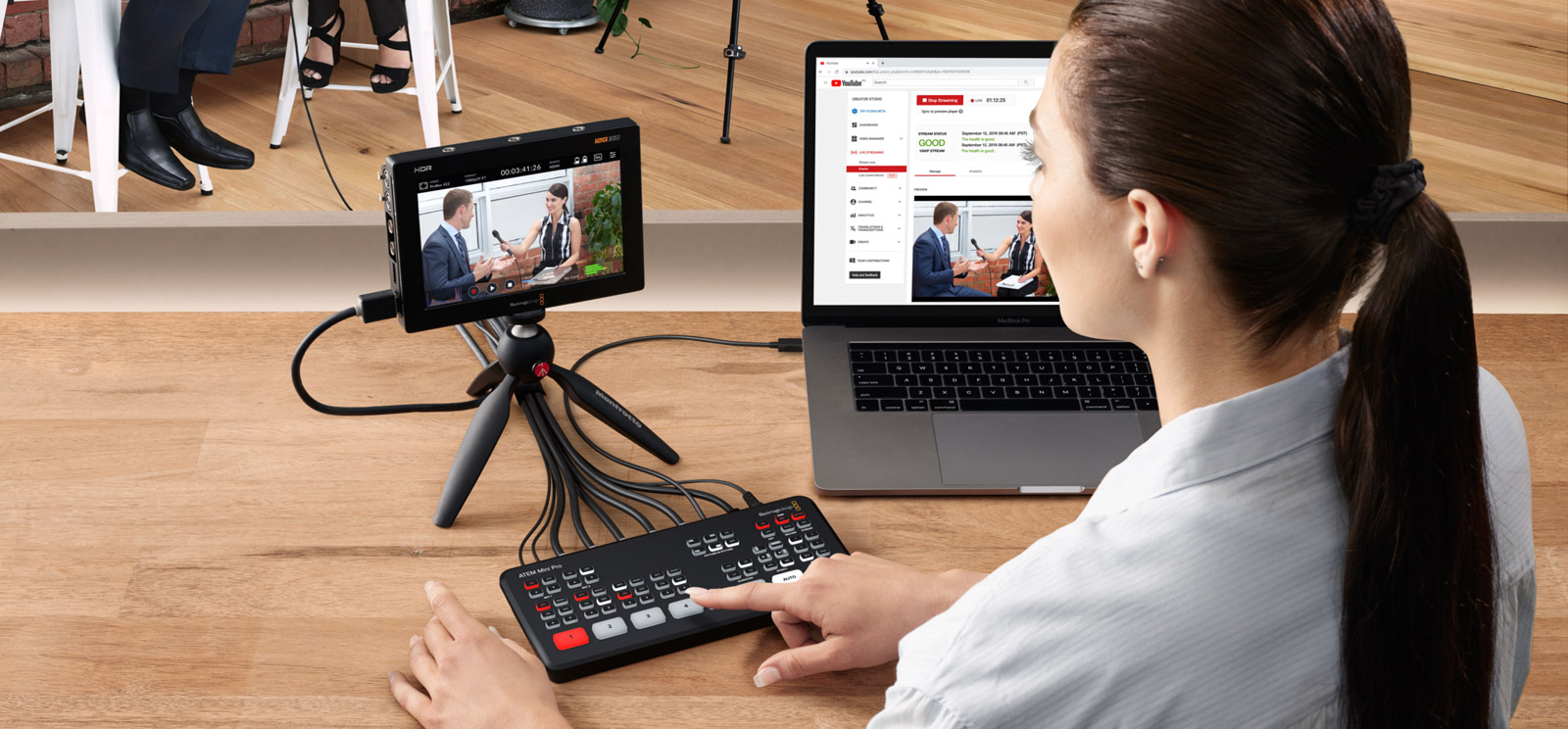 Connect up to 4
Independent Cameras
With 4 independent HDMI inputs, you can connect up to 4 high-quality video cameras. Video cameras with HDMI outputs are dramatically better quality than simple webcams as they use higher quality lenses and have better low light sensitivity. All video sources will re‑sync to the switcher if they operate at different video standards so you don't have to worry about connecting video devices as they all just work! Cameras with HDMI often support interchangeable lenses so you can change to wide-angle lenses for wide shots and zoom lenses for close‑ups. Imagine taking advantage of the low light capability of better cameras for a theater production, weddings, school concerts, and music videos!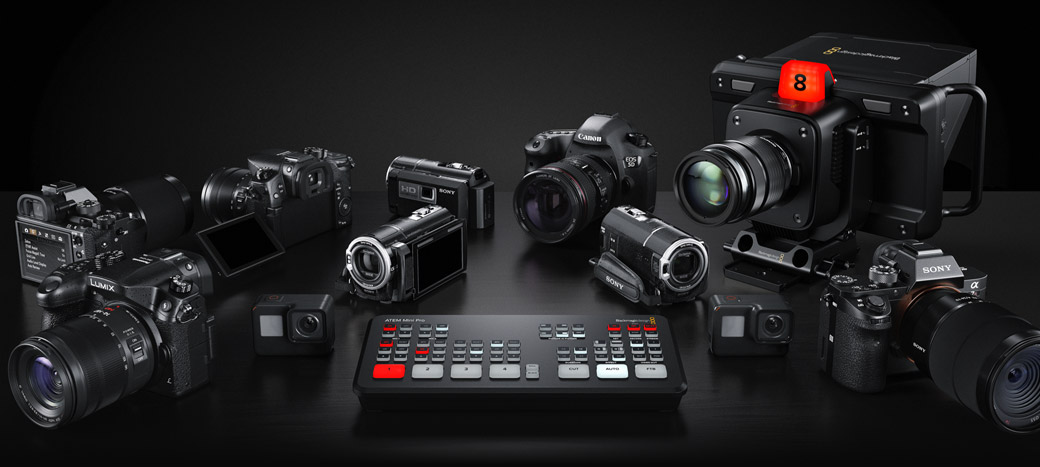 Automatically ConvertsAny HDMI Input Format
Each of the 4 HDMI inputs features their own dedicated standards converter. That means ATEM Mini will automatically convert 1080p, 1080i and 720p sources to the video standard of the switcher! By default, he switcher will set its video format automatically, however you can also set the switcher to a specific video standard you need! The HDMI output is a true "aux" output so you can clean switch each HDMI input or program to this output. You can even "direct" switch input 1 to the HDMI output for low latency eSport productions. If you're using program/preview switching, the HDMI out can be selected to preview, or on the ATEM Mini Pro model, it can be selected to display a full multiview.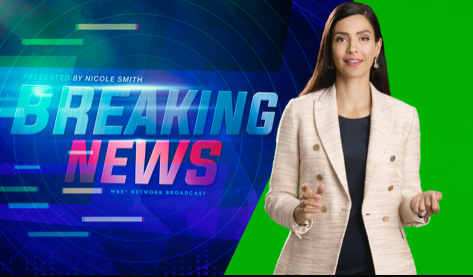 Secret Broadcast
Features Built In!
While ATEM Mini is easy to use, it's also hiding very powerful broadcast features! If you're interested in a career in the television industry, then ATEM Mini is perfect for training as it has the same features as switchers in high-end broadcast studios. You get an ATEM Advanced Chroma Key, Fairlight audio mixer, DVE, still store for graphics and much more! Simply run the free ATEM Software Control app on Mac or Windows while connected via USB or Ethernet to access the extended features of the ATEM Mini. With a little experimentation, you can learn how to produce broadcast quality live production. Only ATEM Mini is a true broadcast switcher hidden in a tiny and affordable design!
One of the most exciting features on ATEM Mini is the digital video effects processor, commonly referred to as a "DVE", that allows picture in picture effects and crazy DVE transitions! The DVE lets you create professional picture in picture effects with customizable 3D borders, shadows, and lighting. The image quality is the same as high-end ATEM switcher models and the DVE supports the position, resize, and scale, all in real-time. The DVE can also be used to create amazing transitions with 16 different DVE squeeze and DVE push effects for adding excitement to your programming. The DVE features a "fly key" so you can use it with custom graphics to create graphic wipe transitions!
Monitor Sources 
and Status with
ATEM Mini Pro Multiview!
When doing larger live productions with multiple cameras, it's very useful to see all your video sources at the same time on a single monitor. The ATEM Mini Pro model includes a professional multiview that lets you see all 4 video inputs, plus preview and program on a single HDMI television or monitor! Simply select M/V on the front panel video output control buttons to select multiview! Each camera view includes tally indicators so you know when each source is on-air, and each view also has custom labels and audio meters. You can also see the media player so you know what graphic is selected. Plus multiview even includes a status for recording, streaming, and the Fairlight audio mixer!
Built-In Audio Mixer with 6 Band EQ, Compressor and Limiter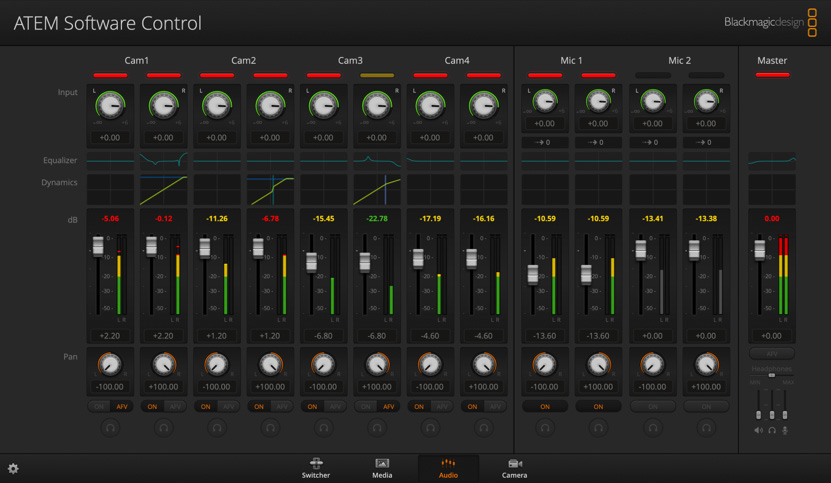 With a built in Fairlight audio mixer, ATEM Mini makes it possible to do complex live sound mixing. The internal mixer features a total of 12 channels so you can mix audio from all sources! That's audio from all HDMI sources and the 2 stereo mic inputs. Each input channel features the highest quality 6 band parametric EQ and compressor, limiter, expander and noise gate as well as full panning. You can even set up the software to auto mix between inputs as you switch "AFV" or to live mix multiple sources together all at once. All this audio power can be controlled via ATEM Software Control, or you can add a Mackie compatible panel or even a massive Fairlight Audio Console!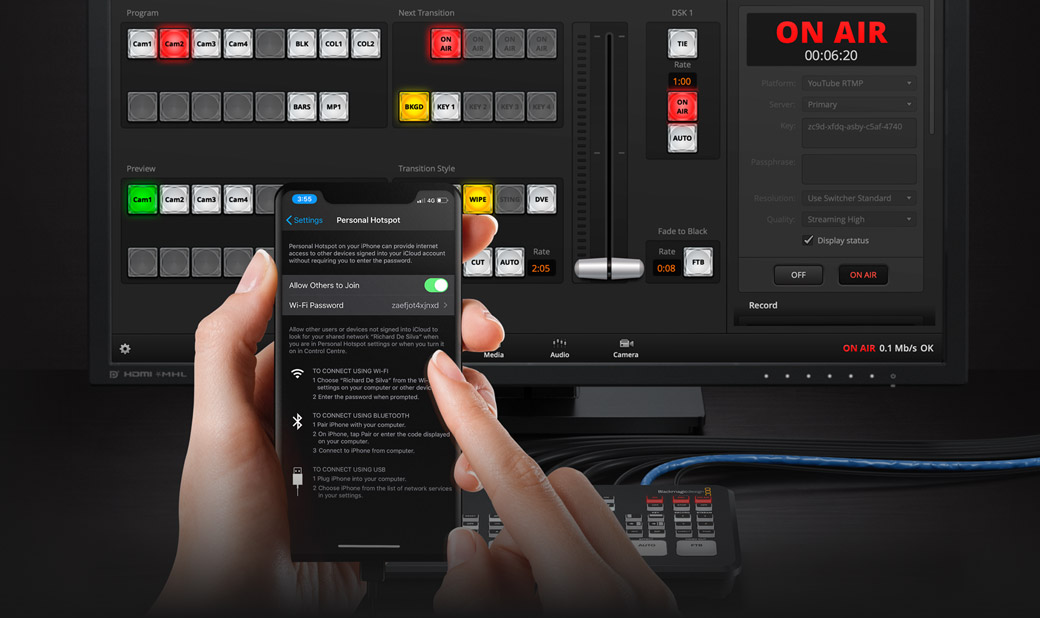 Use Ethernet Control for Wireless Internet Streaming
ATEM Software Control connects to ATEM Mini via USB or Ethernet, however, he benefit of Ethernet is you can use it to share your computer's internet connection for streaming on the ATEM Mini Pro model! Simply connect ATEM Mini Pro via Ethernet and set your computer to share its internet. Using Ethernet is easy, and when launching the software, just select the ATEM Mini model. If you are streaming on ATEM Mini Pro, also set your computer to share its internet. Now you get both control and streaming via the single Ethernet cable. This provides amazing mobility as you can connect your computer to the internet using wireless connections such as WiFi or even 4G and 5G tethered phones!
Blackmagic ATEM Mini Pro HDMI Live Stream Switcher