MAONO PD400X USB/XLR Dynamic Microphone
Professional Sound
User-Friendly
Budget-Friendly
Noise Reduction
USB and XLR Connectivity
Dynamic Element
Cardioid Polar Pattern
High-Quality Build
MAONO PD400X USB/XLR Dynamic Microphone Price in Pakistan: Review, Features, Benefits, and More
The MAONO PD400X USB/XLR Dynamic Microphone offers exceptional quality for content creators, podcasters with affordabe price in Pakistan.  The microphone's USB and XLR connectivity, dynamic element, and cardioid polar pattern make it stand out. Users praise its professional sound quality, ease of use, and durability. PD400X is an excellent choice  in remarkable value for its price
User Experience
Versatility and Applications
Durability and Build Quality
Comparison with Competitors
FAQs
1. Is the MAONO PD400X compatible with Mac and Windows computers?
Yes, the microphone is compatible with both Mac and Windows operating systems.
2. Can I use the PD400X for live performances?
No! This Microphone is Made For in House Recordings i.e podcast and voice-overs.
3. Does it come with a warranty?
Yes, the MAONO PD400X typically comes with a warranty for added peace of mind.
4. How do I connect the microphone to my computer?
You can connect it via USB or XLR, depending on your setup and preference.
5. What accessories are included with the microphone?
The package usually includes a microphone stand mount, USB cable, and a user manual.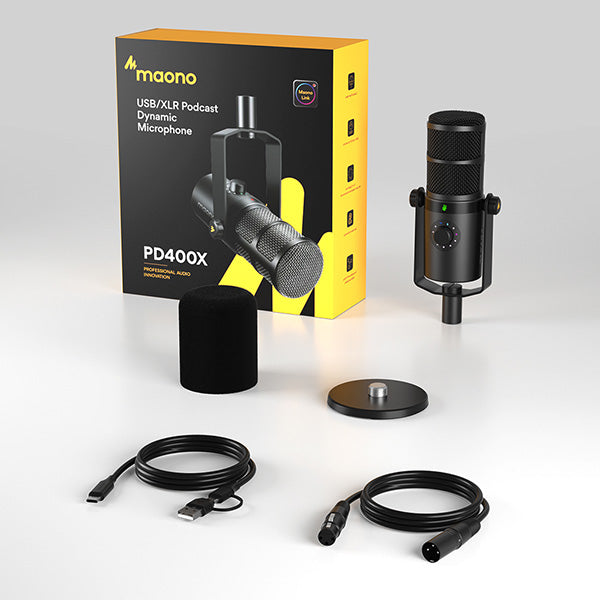 MAONO PD400X USB/XLR Dynamic Microphone